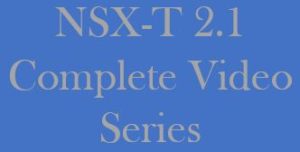 In the following days, I will be writing and creating the videos on the topics like NSX-T 2.1, VMware Integrated OpenStack, VMware Integrated Containers, NSX for vSphere Troubleshooting, NSX-T Troubleshooting, Preparing for the VCAP6.x-DCV and VCAP6.x-NV, VCP-DCV, VCP-NV.
So far I have made some progress in creating the NSX-T 2.1 videos, here is the list of videos that I will be releasing on my youtube channel and are in the final review and editing process.
Please do subscribe to my Youtube channel VirtualBrigade for more videos on NSX-T:
What else is Coming on my Youtube Channel?
I am in the process of writing the blog posts and creating videos explaining the various topics like NSXv, NSX-T, VICs, VIO, vSphere 6.x, etc primarily focusing on installation, configuration, troubleshooting aspects
I have also planned to create the videos for preparing the VCAP6.x-DCV and VCAP6.x-NV exams, but NSX-T 2.1 was given a prority as there were lot of requests from VMware community, friends and colleagues and especially from my students.
NSX-T 2.1 Videos Feeback:
So I started recording the NSX-T 2.1 a month back in my personal time, 99% of the videos were recorded at the middle of the night, haven't used a professional MIC though, but I found the audio is clear. However please do share your feedback in the comments section after you finish watching the videos.
This is an experiment of me creating the videos and publishing it on youtube for folks who were interested in learning the amazing product NSX-T, and all the other amazing VMware products.
Feel free to share it on social media, Share with your friends if you feel the posts and videos are worth sharing, and don't forget to subscribe to my blog and to my youtube channel.
So here is the list of NSX-T 2.1 coming on your way:
| | |
| --- | --- |
| NSX-T 2.1 Part 01: Introduction and NSX-T Features and Capabilities HD | 7:24 |
| NSX-T 2.1 Part 02: NSX-T Components and The roles of Management, Control and Data planes | 8:14 |
| NSX-T 2.1 Part 03: Deploying NSX-T 2.1 Manager on ESXi host | 11:10 |
| NSX-T 2.1 Part 04: Managing NSX-T Manager via GUI and CLI | 8:44 |
| NSX-T 2.1 Part 05: Deploying NSX-T Controllers and Configuring the NSX Controller Cluster | 35:02 |
| NSX-T 2.1 Part 06: Deploying NSX-Edges from OVA file and from NSX Manager GUI | 39:17 |
| NSX-T 2.1 Part 07 Creating NSX Edge Cluster | 4:41 |
| NSX-T 2.1 Part 08: Register ESXi and KVM Hosts as a Fabric Nodes in NSX-T Manager | 6:47 |
| NSX-T 2.1 Part 09: Register vCenter Server as a Computer Manager in NSX-T 2.1 Manager | 9:26 |
| NSX-T 2.1 Part 10: Understanding the NSX-T VIBS/deb packages installed on ESXi/KVM | 10:31 |
| NSX-T 2.1 Part 11: NSX-T Architecture | 12:10 |
| NSX-T 2.1 Part 12: what is Transport Zone in NSX-T | 4:28 |
| NSX-T 2.1 Part 13: What is Uplink Profile in NSX-T? | 7:08 |
| NSX-T 2.1 Part 14: What is N-VDS aka HostSwitch in NSX-T? | 13:26 |
| NSX T 2.1 Part 15: Configuring the Fabric Nodes as Transport Nodes in NSX T [No Audio] |  38.23 |
| NSX-T 2.1 Part 16: Creating Logical Switches and connecting the vSphere VMs to Logical Switches | 13:07 |
| NSX-T 2.1 Part 17: Broadcast, Unicast, and Multicast(BUM) replication Modes | 12:50 |
| NSX-T 2.1 Part 18: Understanding Switching Profiles, how to create and configure in NSX-T | 27:10 |
| NSX-T 2.1 Part 19: Connecting vSphere and KVM VMs to Logical Switches | 9:08 |
| NSX-T 2.1 Part 20: Verifying and validating the logical switches from the NSXCLI HD | 11:55 |
| NSX-T 2.1 Part 21: Introduction-to-Tunneling-in-NSX-T | 6:23 |
| NSX-T 2.1 Part 22: Understanding GENEVE frame | 5:07 |
| NSX-T 2.1 Part 23: Verifying the Tunnel information from the NSX Manager and nsxcli | 12:10 |
| NSX-T 2.1 Part 24: Introduction to logical routing in NSX-T | 3:35 |
| NSX-T 2.1 Part 25: Creating and Configuring T1 Logical Router | 26:39 |
| NSX-T 2.1 Part 26: Creating and Configuring T0 Logical Router | 25:55 |
| NSX-T 2.1 Part 27: Verifying the Logical Router's Configuration from CLI HD | 22:57 |
| NSX-T 2.1 Part 28: Configuring NAT on Tier 1 Logical-Router | 5:58 |
| NSX-T 2.1 Part 29: Configuring Route advertisement on Tier1 Logical Router HD | 5:57 |
| NSX T 2.1 Part 30: Configuring ECMP on Tier 0 Logical Router | 7:46 |
| NSX T 2.1 Part 31: Configuring BFD on Tier0 Logical Router HD | 2:27 |
| NSX T 2.1 Part 32: Introduction to NSX Policy | 4:10 |
| NSX-T 2.1 Part 33: Deploying and configuring NSX Policy Appliance | 38:23 |
| NSX-T 2.1 Part 34: Its all about Firewall in NSX-T | 11:50 |